My lunch planning is now starting much earlier in the day, sometimes early enough that I plan dinner with its bento leftovers in mind.  One evening last week I even did this when we ate at a restaurant — I underestimated the portion sizes and ordered far too much food, so prioritized what to eat and what to take home based on what would fit well into the next day's bento.
Last night I cooked dinner, though.  Crazy pepper!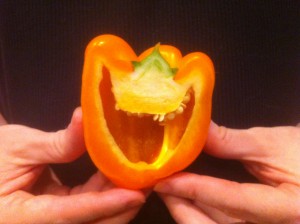 I also experimented a bit with chopping up the fruits to see how they'd last through the day.  Both bananas and apples seemed to do fine, so maybe next time I'll try something prettier with them.
Top tier: turkey pasta sauce and shells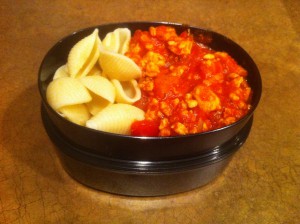 Bottom tier: sliced apples and bananas, carrots and mixed nuts